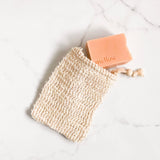 Vegan Sisal Soap Saver Bag
$6.00
An all natural and vegan soap bag made to lengthen the lifespan of your soap and gently exfoliate your skin. 

This zero waste soap bag is made from all natural sisal fibres from the agave plant. Once the soap bag has reached the end of its lifespan, simply put into the compost! 
To use: Lather with your favourite Mellow soap. Gently rub onto wet skin in circular motions to exfoliate. Rinse thoroughly and hang to dry using the cotton string between each use.