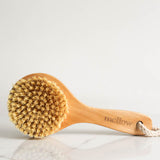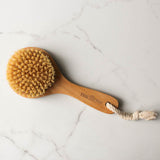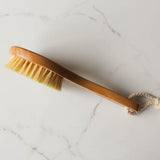 Vegan Sisal Body Brush
$18.00
This natural vegan sisal fiber bristle dry body brush is made from agave fibers with extra firm bristles, exfoliating and removing dead skin cells to leave your skin soft and radiant. Dry brushing is stimulates the lymphatic system, encouraging detoxification of the body while increasing circulation. 
How to Use a Dry Body Brush
Use the dry brush right before a shower. Start at the bottom (tops of feet) with gentle sweeping motions towards the heart. 
Move on to your hands and arms. Start at the fingers brushing up towards the heart.
Brush your torso (stomach and back) in a circular motions
Be mindful in your practice and remember to be gentle!