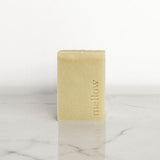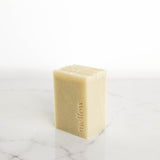 Lunar Coconut Milk Bar Soap
$12.00
Lu•nar [loo-ner]
Relating to or belonging to the moon. A symbol of encouragement and wisdom.
Be kind to yourself. Nurture your mind, reflect often and trust your intuition. 
What it feels like: Organic coconut milk is nourishing and hydrating to your skin. White Kaolin clay is soothing and gentle. Perfect for face or body care. Left unscented for sensitive skin types. 
Ingredients: Olea Europaea (Olive) Oil, Cocos Nucifera (Coconut) Oil*, Eleais Guineensis (Sustainable Palm) Oil*, Sodium Hydroxide, Cocos Nucifera (Coconut) Milk*, Theobroma Cacao (Cocoa) Seed Butter*, Ricinus Communis (Castor) Seed Oil*, Kaolinite (White Kaolin Clay).
*Certified Organic
Weight Approximately 4.5 oz
Note: Handmade soap will last longer if kept dry between uses. We do not use any preservatives or hardeners in our soap. Please use a draining soap dish and keep it away from direct streams of water.
100% Natural, Made Without The Use Of: 
Parabens 
Sulfates 
Synthetic Fragrances 
Artificial Colourants 
Preservatives